Ikenotaira Hotel & Resorts (Tateshina Town, Nagano Prefecture) announced that it will completely renovate the main building of Ikenotaira Hotel and reopen it in April next year. A new type of dining room and dining space, a hot bath facility overlooking Lake Shirakaba, and more than 70 new guest rooms have been renovated to provide a new experience of staying on the shores of Lake Shirakaba.
Set two concepts for remodeling
The company has set two concepts for this complete renovation.
"THE LAKE RESORT" offers a high-quality stay at the deck terrace overlooking Lake Shirakaba and hot springs under the theme of "Lakeside time where everyone can spend their time as they please, surrounded by a calm and tolerant lake." . In the "Shinshu Five Senses Showcase", the theme is "Experience the ingredients, culture, sounds, crafts, and nature nurtured by the rich climate of Shinshu with all five senses", and locally produced ingredients, sake, and gifts are displayed. The interior of the building is studded with the setting of the Shinshu mountain plateau.
Renewal of the image of meals, hot springs, guest rooms, etc.
The FOOD HALL-type dining "Kohan no Kaze" includes "Shirakaba Farm 1450," which offers seasonal vegetables and highland dairy products, "Hotori," iron plate dining, "Yorasshare," a local Shinshu cuisine, and "Hana," a sweets and bakery. , maintain individual stores of different types. Dinner and breakfast are served buffet style in a space like a bar or night market.
The hot spring "Koten-no-Yu" consists of "Ishi-no-Yu" based on Shinshu Teppei stone and "Ki-no-Yu" with Kiso cypress. Prepare. In the main area of ​​Koten-no-Yu, we have created a space where you can relax after bathing by creating a "lakeside mixed bathing sky" that you can use with your bathing clothes. The company says, "We provide time for mental and physical well-being."
All 73 newly renovated rooms are modern Japanese style rooms based on Ryukyu tatami mats. The top floor has a suite room (62 square meters) with a view bath and a corner suite (90 square meters).
Shirakaba Nakamise is an indoor hot spring town dedicated to the pillars of Suwa Taisha, offering local sake, wine, and beer directly from the brewery, as well as gifts from farms and ranches in Shinshu. The store has a unique space that embodies the new concept Shinshu's five senses showcase, such as rows of square-style stalls with cheap sweets, fairs, and various local sake.
On the 2nd floor of the new public building, there will be 4 venues (maximum 8 sections) of convention and banquet halls. The convention hall "Acacia", which has a vast space of 635 square meters, is equipped with the latest video and audio equipment, and can be used as a base for resort MICE, as well as a wide range of uses such as various meetings, parties, and events.
Details of the museumhttps://www.shirakabaresort.jp/ikenotaira-hotel/stay/new-wing/. The official website (https://www.shirakabaresort.jp/) or TEL 0266 (68) 2100 to start accepting reservations.
New guest room (image)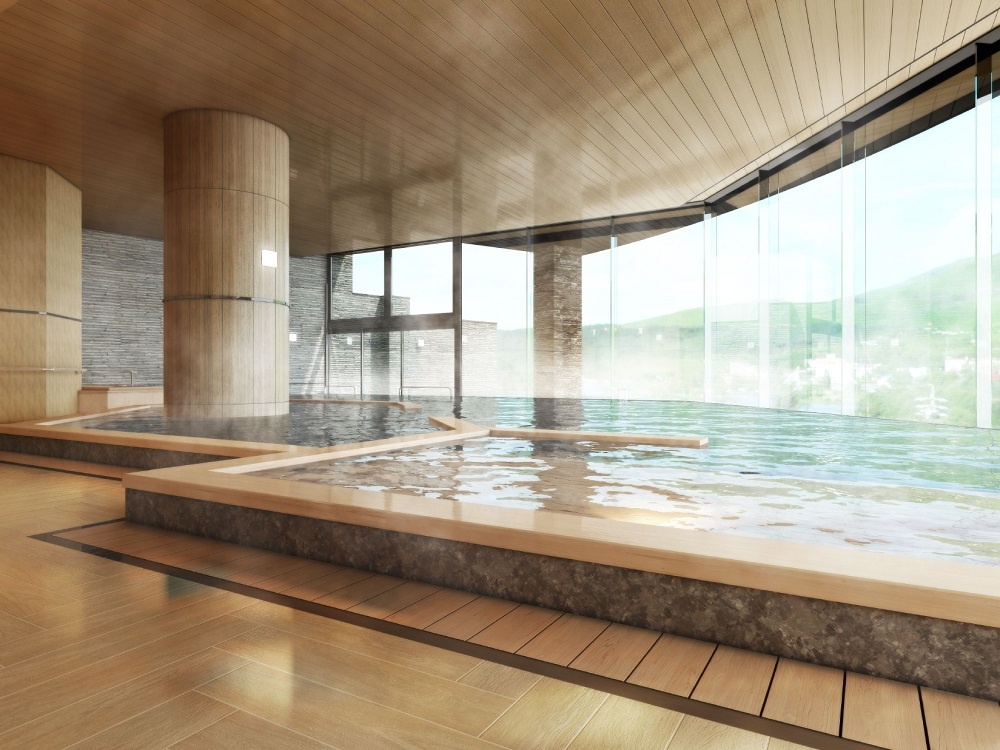 Koten no Yu (image)