A symposium on the theme of sustainable tourism sponsored by the Japan National Tourism Organization (JNTO) was held on September 23 at Tourism EXPO Japan. In a panel discussion titled "What kind of tourism will be chosen for post-corona-sustainable tourism that can be started today," representatives from three leading tourism companies took the stage and introduced their efforts.
Hokkaido Treasure Island Travel Agency (Sapporo City) has acquired the international certification "Travel Life" for sustainable tourism, and aims to contribute to both travelers and the region by attracting tourists to Hokkaido. One of the pillars of our efforts is Adventure Travel (AT), which we promote together with the local community. President Koichiro Suzuki said, "If you define AT as 'a style of travel that allows you to enjoy local nature and culture through guide services and contribute to the sustainability of the earth, the region, and yourself,' then AT is sustainable tourism." pointed out.
Regarding how to approach sustainable tourism, Mr. Suzuki said, "If the local community doesn't decide what kind of tourists they want to spend in what kind of time and space, they will end up depending on others. tourism needs to be managed," he said.
Tobira Holdings Co., Ltd. (Matsumoto City, Nagano Prefecture), which is engaged in sustainable community development through the management of accommodation facilities, is working to address regional issues such as the declining birthrate and aging population, the devastation of the natural environment, and the decline of culture and industry. We have started a community co-creation business that utilizes the property for guest houses. President Tadamasa Saito said, "Isn't it possible to change to sustainable regional management through tourism? I'm taking on the challenge of designing a region where people can continue to live in terms of economy, culture, and natural environment."
In 2009, Myojinkan Ryokan, the origin of the Tobira Group, became the first in Japan to acquire the international eco-label "Green Key" certification. Regarding the acquisition of certification, Mr. Saito said, "The most important thing is to get the staff to understand the purpose of obtaining the certification. However, recently, new employees have been thoroughly researching the green key before joining the company. Due to the shortage of workers. However, they seem to have chosen our company as a company committed to the environment, and young people are very interested in the environment."
Booking.com, a global OTA, also emphasizes sustainable tourism, such as by surveying changes in travelers' awareness. John Olivia, Area Manager for East Japan of Booking.com Japan, said, "We operate a system called 'Sustainability Badges' to help travelers find and book accommodations that are committed to sustainable tourism." introduced.
The sustainability badge is a system that certifies accommodation facilities that meet items such as reduction of waste and water usage, consideration for nature, and contribution to the local community, and promotes them on the company's website and app. Ms. Olivia said, "Japan's interest in sustainable tourism is lagging behind that of Europe and the United States. The number of facilities in Asia that have obtained the badge is smaller than in Europe and the United States, but there is a movement to obtain the badge for all hotel chains in Japan as well." reported.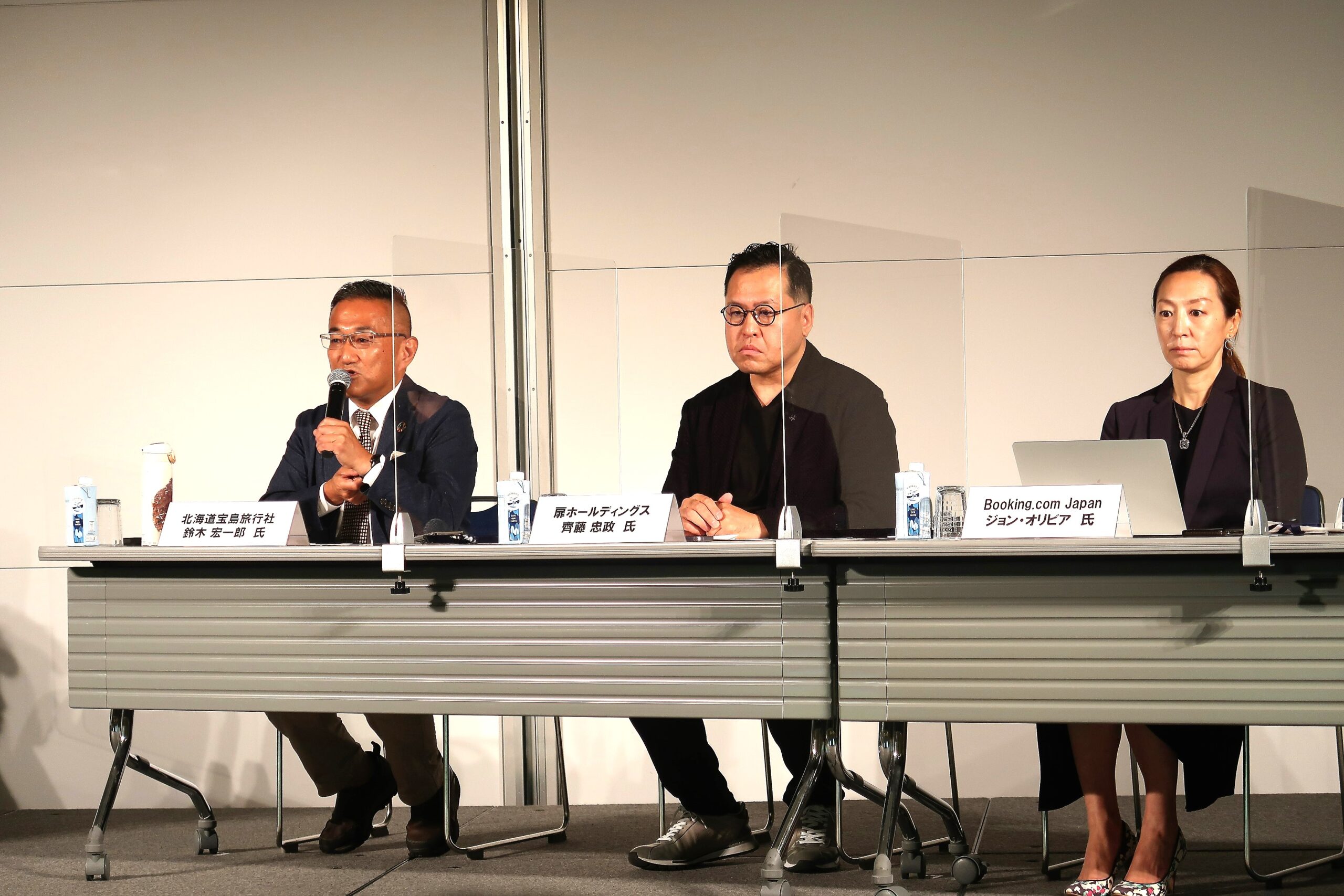 Panelists at the symposium hosted by JNTO