Japan's first LNG-fueled ferry, Sunflower Kurenai, will enter service on January 13, 2011.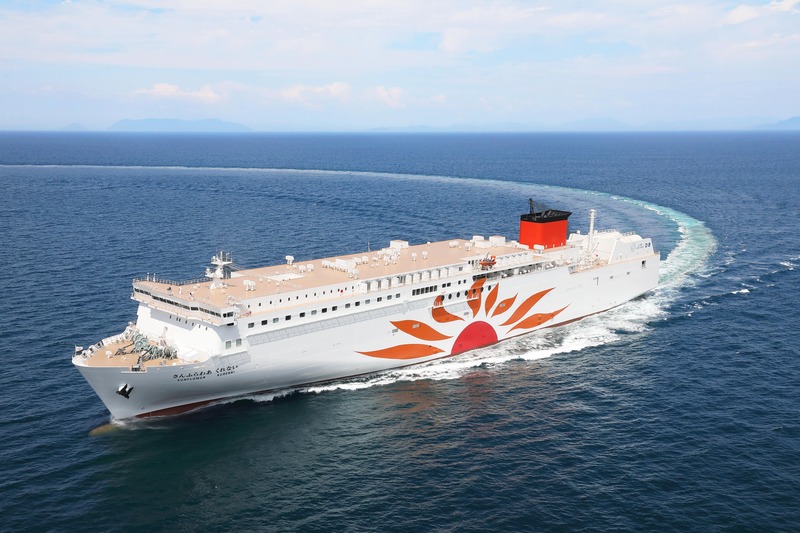 Ferry Sunflower Co., Ltd. (President: Kojiro Akasaka) announces the launch date (business start date) and reservation of Japan's first LNG-fueled newly built ferry "Sunflower Kurenai" to be introduced on the Osaka ⇔ Beppu route. We are pleased to inform you that we have decided the start date of reception.
The second new ship, Sunflower Murasaki, is scheduled to go into service in April next year, and the Osaka-Beppu route will consist of two new ships. Please look forward to the birth of two eco-friendly LNG-fueled ferries.
On the flight date:January 13, 2023 (Gold) From Osaka to Beppu
(Commencement of business) The inbound flight from Beppu on the same day will be operated by the current ship "Sunflower Cobalt".
Reservation start date:Monday, November 14, 2022 at 9:00 amstart from
Reservation: Internet reservation site (https://booking.ferry-sunflower.co.jp/web/yoyaku/) from
* We will also accept reservations at the telephone reservation center (0120-56-3268) at the same time.
* WEB discount will be applied to reservations made through the Internet.
★Features of new ships
By introducing a newly built LNG-fueled ferry with the latest technology and a particular design,
We will improve both comfort and transportation capacity in terms of "cargo transportation".
passenger serviceIn , by increasing the size of the ship (total length of 199.9m) and installing state-of-the-art technology,
Significantly improved quietness. The interior area per person will be expanded from 6.9㎡ to 10.9㎡.
While significantly increasing the number of private rooms with an emphasis on privacy, create spacious and open public spaces
We will support everyone's voyage in a safe and comfortable space, such as installation.
cargo delivery, the cargo space is expanded to 1.5 times that of the current ship.number of trucks loaded and
We will significantly increase the number of driver-only cabins and provide a comfortable space for drivers.
Room details and fares will be announced in October. Please stay tuned.