Dentsu released its "Everyone's Event Guidelines" to the public on the 4th.
Dentsu Inc. (Headquarters: Minato-ku, Tokyo; Representative Director, President and Chief Executive Officer: Norihiro Kuraya; hereinafter referred to as "Dentsu") announced that Dentsu Live Inc. (Headquarters: Chiyoda-ku, Tokyo; President and Chief Executive Officer: Masahiko Takagi) In collaboration with Dentsu Japan Network※1De&I※2The Dentsu Diversity Lab is an organization that specializes in research and analysis of areas and development of solutions.※3"and UD Japan Co., Ltd. (Headquarters: Minato-ku, Tokyo; Representative Director: Sanae Uchiyama), the "Everyone's Event Guidelines" (hereinafter referred to as "the Guidelines ") and will be open to the public from today.
Currently, there is no flow line for wheelchair users, guide dogs, who are the eyes of visually impaired people, cannot enter, and people who have difficulty understanding Japanese or people with internal disabilities cannot be accommodated. Various barriers still prevent people from attending or fully enjoying many events. Last year, the Act on the Elimination of Discrimination against Persons with Disabilities was amended, changing the provision of reasonable accommodation from a duty of effort to a legal obligation, even for companies. perspective becomes more important.
Dentsu has been involved in the planning, execution, and management of international events and large-scale events in which a diverse range of people participate regardless of nationality, age, gender, or whether they have a disability. These guidelines have been compiled based on the experience of the participants, assuming all kinds of barriers and systematically organizing and editing their solutions, making use of the perspectives and knowledge of the event business cultivated there. By realizing comprehensive universal design (UD) support from event planning conception, venue setting, construction to operation, production and sampling, it is possible to hold events that everyone can enjoy participating.
By complying with these guidelines, Dentsu will increase the number of events that everyone can enjoy. In addition, by opening this to the public, we will contribute to the penetration of UD support into many events. The content of these guidelines will be updated as needed, and we are also considering developing check sheets and holding seminars for event organizers and creators.
Dentsu will continue to contribute to the realization of an inclusive society through consultation and implementation support for corporate initiatives in the DE&I domain.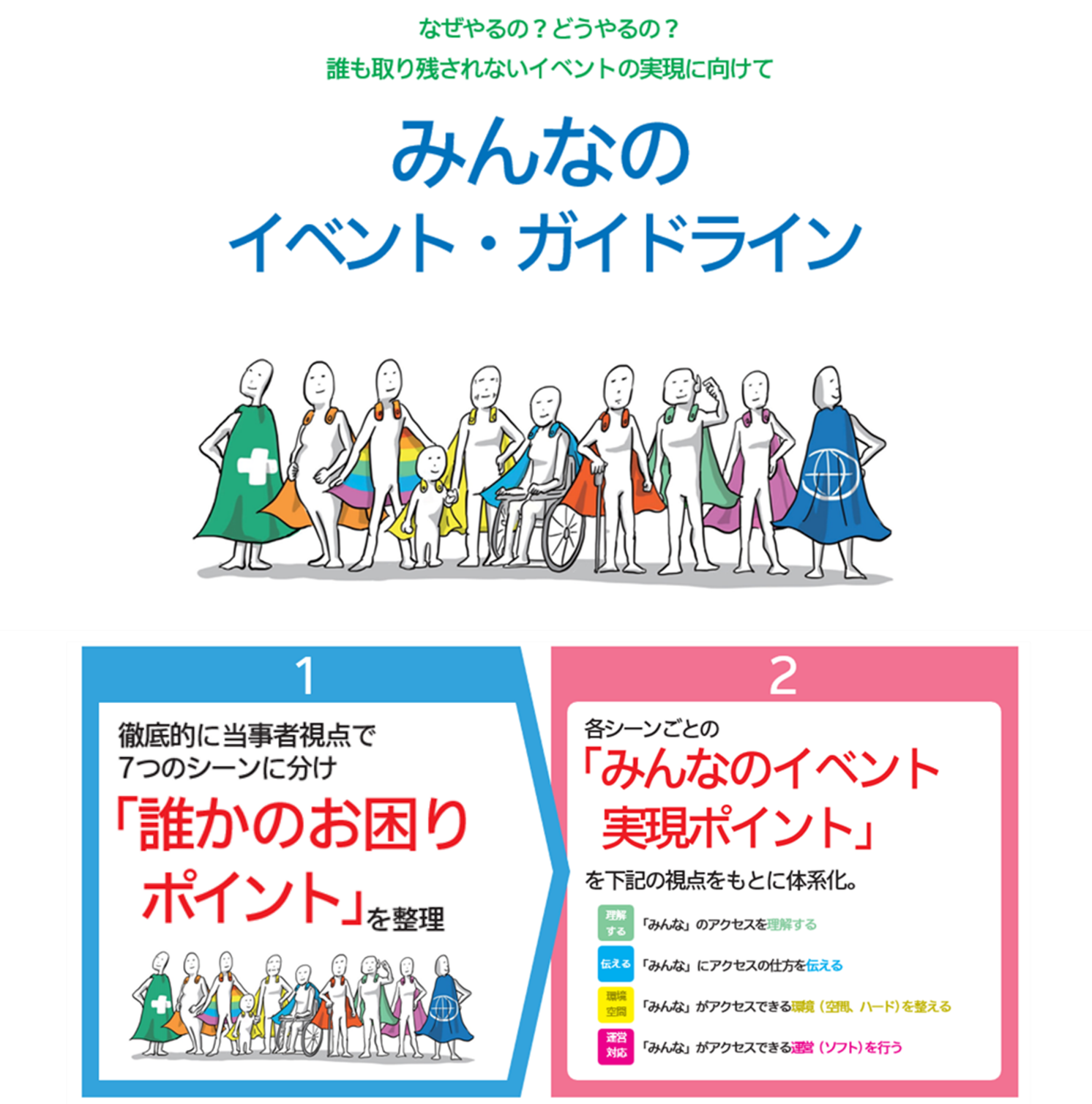 https://www.dentsu.co.jp/sustainability/sdgs_action/pdf/event_guideline.pdf

*1 Dentsu Japan Network (DJN) is an in-house company of Dentsu Group Inc., and at the same time refers to the network itself consisting of approximately 160 domestic Dentsu Group companies. URL:https://www.japan.dentsu.com/jp/
*2 Abbreviation for "Diversity, Equity & Inclusion". It refers to issues related to diversity, fairness (equity, and inclusion) of people in society, and measures to improve them.
*3 Established in 2011. Dentsu's cross-organizational specialized task force that promotes the development and provision of solutions for both the company and its customers from the perspective of diversity, equity and inclusion. About 100 members are promoting about 20 unique projects centering on the four main themes of "gender," "disability," "multiculturalism," and "generation." We develop and provide various solutions and disseminate information through our own surveys and research and collaboration with external experts, research institutes, and groups of concerned parties.
URL:https://dentsu-diversity.jp/