Izu Oku-Shimoda "Inn with free-flowing hot spring water" Kannon Onsen (Chairman Kazue Suzuki) is a single inn with the finest hot springs in the rich mountains of Izu Oku-Shimoda. In 1963, the predecessor president began excavating hot springs and unearthed the "Kannon statue" along with hot springs, giving birth to Kannon hot springs.
A rich alkaline spring with a pH of 9.5 and super soft water with a hardness of less than 1 gushes out from three sources at a rate of 500 liters per minute. It came to be called "no hot water". It is delicious to drink and is ideal for drinking, and is expected to have the effect of balancing the body, which tends to be biased towards acidity. The bottled hot spring water "Nomu Onsen/Kannon Onsen" won both the highest gold award and the international excellence award at the Monde Selection in the past. It is also used in soups at three-star restaurants in Tokyo, and at Kannon Onsen, this hot spring water is used for all cooking, including boiling, cooking, steaming, and steaming.
In addition to the large public baths, such as the Daiso Cypress Bath, which has a rich scent of cypress, and the Starry Sky Open-air Bath, which impresses with a large panorama of the starry sky, in addition to the Galatia Kannon no Yu, the Kannon Principle has been added in recent years. " is very popular. You can enjoy the finest hot springs in day-trip hot springs and private baths. The lodging buildings are "Pygmalion" with a private open-air bath, "Main building" with a full-covered cypress bath, "Seiunkan" with a garden cypress bath nestled in a rich forest zone, and four connecting rooms this spring. It consists of 4 buildings of "Ubusuna-tei" which was reopened with the birth of . Udo-tei is a spacious space where three generations of a family can stay at the same time. In some areas, footbaths are also set up, and it is also attractive to have family conversations while gazing at the starry sky. And what is worth mentioning is that all the bathtubs, including the guest rooms, are "flowing directly from the source". We have eliminated steps as much as possible, and handrails are installed in all large public baths. Barrier-free facilities are also fully considered.
▽Kannon Onsen is located at 1092 Yokogawa, Shimoda City, Shizuoka Prefecture. TEL 0558 (28) 1234.https://www.kannon-onsen.com/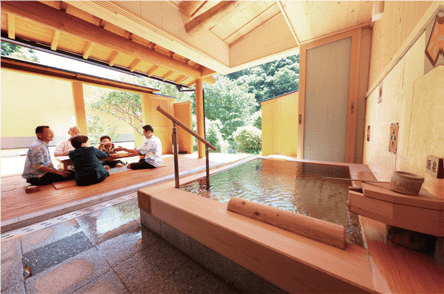 Sando-tei's cypress bath and footbath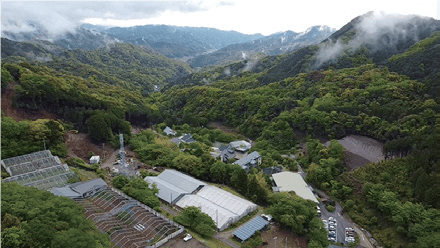 Kannon Onsen is rich in natural blessings