Trip.com Group released the 2022 Consumer Survey on Sustainable Tourism on the 4th.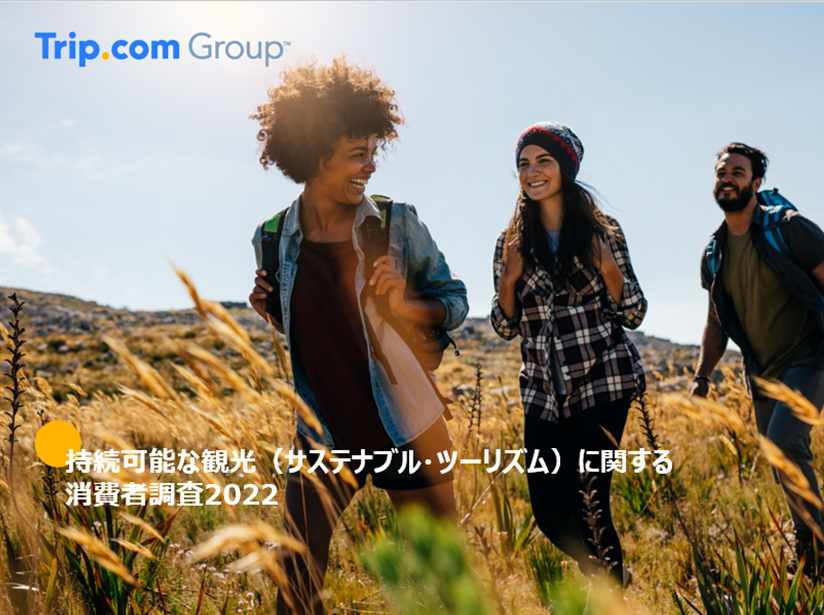 – 8 out of 10 travelers recognize the importance of sustainable tourism
* The spread of the new coronavirus infection has greatly affected the way people think about sustainable tourism.
* 67.7% of travelers are positive about spending on sustainable options
TOKYO, Oct. 3, 2022 /PRNewswire/ — Trip.com Group, a global travel services provider, today celebrated the annual World Tourism Day on September 27 by launching its first Sustainable Tourism Consumer Survey 2022" has been announced.
The report highlights the increasing acceptance of sustainable tourism and its impact on the travel industry and beyond.
Travelers around the world used to give little thought to sustainable tourism as a concept and practice. However, it has now become a very important yardstick in the traveler's decision-making process, with about 8 in 10 (78.7%) of travelers recognizing its importance.
Sustainable tourism gaining acceptance
Based on a survey of 7,705 respondents in 11 Asian and European markets, the report finds that the impact of travel is the top reason travelers are paying more attention to sustainable tourism. revealing something.
Approximately 50.5% of the respondents answered that they were "interested in the impact of travel on future generations." One-third (26.8%) of respondents said it was necessary to improve their travel experience, 13.2% recognized it as a trend, and 8.4% said it was due to social pressure. I chose sustainable tourism."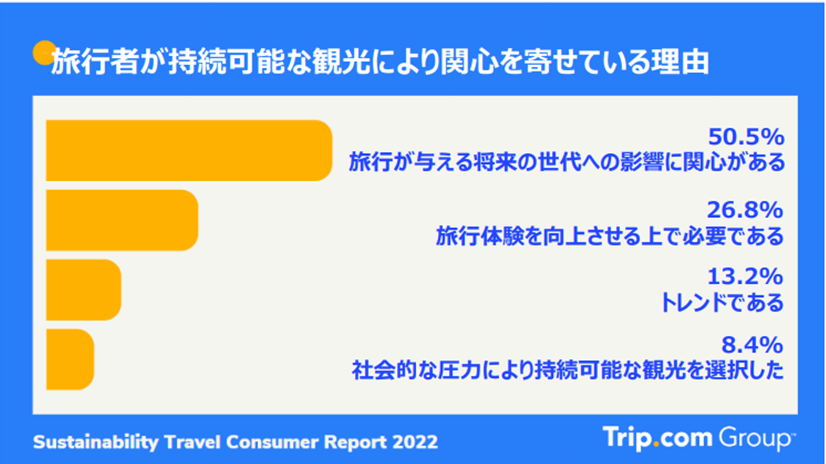 Perceptions of sustainable tourism also varied among respondents. In addition to the usual environmental considerations, the report highlights the economic, cultural and biodiversity aspects, while increasing the proportion of travelers who consider "sustainable tourism" considering a broader range of issues. indicates that
A more diverse understanding of sustainable tourism is emerging through the several ways travelers see support for destinations. About 30% of respondents recognize the benefits of supporting local businesses and livelihoods. Furthermore, an impressive 43% of respondents believe that respecting local culture and heritage is also part of sustainable tourism.
Growing awareness of sustainable tourism
COVID-19 has changed consumer mindsets and behaviors, leading to a growing awareness among travelers that they want sustainable tourism.
The report found that more than two-thirds (67.8%) of respondents said that the spread of COVID-19 has increased their awareness of choosing sustainable options. clarifying. Approximately 38.3% answered that travel restrictions increased their appreciation for nature, and 30.4% said they would like to travel nearby. Due to the spread of COVID-19, many travelers are taking short trips, and we are aware of the impact this has on reducing CO2 emissions (carbon offsets).
One of the highlights of this report is to provide a glimpse into how travelers in Asia and Europe understand and practice sustainable tourism.
Notably, 21.3% of Europe-based respondents say people choose sustainable tourism 'because it's a trend', compared to 7.1% of Asian travelers who share this view. % and much less.
Attitudes toward paying more for sustainable options also differed, with 39.1% of European travelers reluctant to pay extra, compared to 29.5% of Asian travelers. was.
The report finds that although there are regional differences, more and more people are practicing sustainable tourism in various ways.
As sustainability awareness grows, more than half of respondents (59.2%) are willing to pay to reduce their carbon footprint to reduce the impact of travel.
Online travel agency (OTA) significant market opportunity
With the popularity of sustainable tourism skyrocketing, only 20% of respondents reported no barriers to sustainable tourism, leaving the rest to encounter a range of challenges. .
Insufficient public awareness of sustainable tourism options is a major barrier to widespread adoption. Travelers cite the lack of information on sustainable travel products as the reason, with 32.9% saying there are no sustainable options and 25.4% saying that options are not clearly displayed. .
As a result, "OTA should clearly display sustainable tourism options" (50.7%), "OTA should make sustainable tourism options easier to find" (41.5%), "OTA should provide incentives" (41.5%). More than half of the respondents answered that they should (39.4%).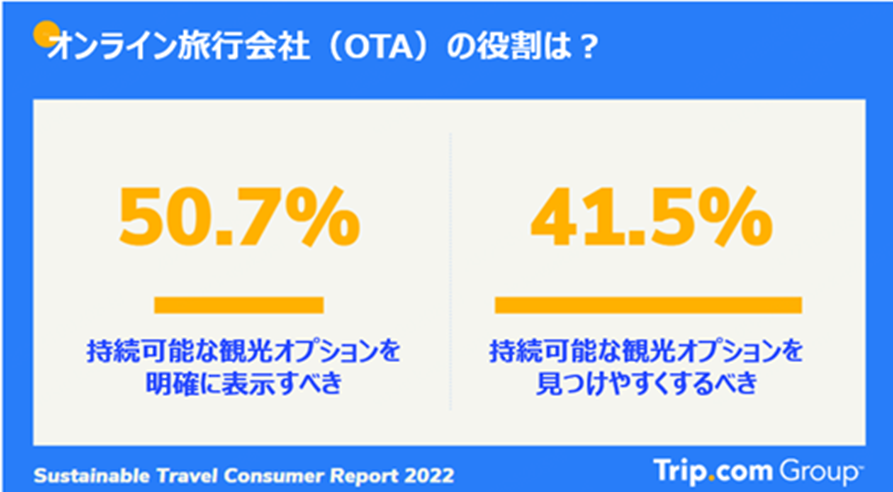 67.7% of travelers are willing to pay more for sustainable tourism options, while about 10 are willing to pay more than 10% of the total cost in choosing sustainable tourism options % and sensitivity to higher costs were found to vary.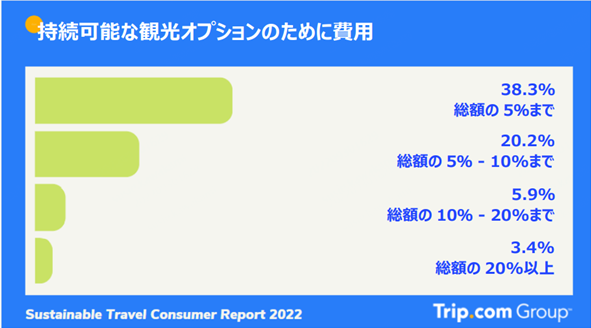 Against this backdrop, OTAs and booking platforms have an opportunity to capitalize on this trend by demonstrating their performance in delivering sustainable tourism options and being endorsed by like-minded users. The report found that 93.0% of respondents would consider booking via an OTA that offers sustainable tourism options.
Trip.com Group CEO Jane Sun said: "The results of our report reaffirm our vision to better understand travelers and provide them with a greater and more diverse range of reliable and sustainable tourism options. It's a clear message to our colleagues in the travel industry."
"In the future, we will work with our partners, travelers and other stakeholders to work towards a more sustainable world."
View and download the 2022 Consumer Survey on Sustainable Tourism here
https://mma.prnewswire.com/media/1912571/JP_Sustainable_Travel_Consumer_Report_2022.pdf