Shuhokaku Kogetsu (President Kunihiro Osano) in the Fujikawaguchiko hot spring village in Yamanashi Prefecture is an inn with a superb view of Mt. Fuji from all guest rooms, gardens, and open-air baths. You can enjoy "Mt. Fuji" registered as a world cultural heritage with hot springs and cuisine.
Located on the quiet lakeside on the northern shore of Lake Kawaguchi, you can see the waves of the lake just outside the inn. "Fuji seen from the surface of the lake has a clear ridgeline, and you can see all the way down to the base. The shape is almost symmetrical. There are not many Mt. Fujis as beautiful as this," said Managing Director Takeshi Miyashita.
There are a total of 45 guest rooms, including Japanese-style rooms and Japanese-Western style rooms. Fuji can be seen from the veranda, balcony, and bed. There are 4 guest rooms with hot spring open-air baths and foot baths, and 3 guest rooms with hot spring foot baths.
The garden is a perfect spot for taking pictures of Mt. Fuji in the four seasons, including fresh greenery, summer mountains, autumn leaves, and snowy mountains. Shuhokaku Kogetsu's website has a section called "Kogetsu Photo Album" that introduces photos of Mt. Fuji taken by hotel guests.
Fuji while soaking in the hot water is also exceptional. The women's open-air bath "Akafuji" is named after the snow-capped mountain surface that turns red in the morning sun. Fuji in front of each. Mt. Fuji can be seen through the glass from the ladies' large bath "Otome Sakura" and the gentlemen's large bath "Fuji Sakura".
In addition to the superb view of Mt. Fuji, the cuisine is also enchanting. We offer kaiseki cuisine prepared with carefully selected seasonal ingredients. The dishes are changed eight times a year according to the season, and the special taste and beautiful presentation are the pride of the restaurant. One of the popular dishes is "Koshu wine pork shabu-shabu". They buy a whole Koshu wine pig, which has a high rarity value and are raised with Koshu wine, and serve it to the dining table.
▽ Shuhokaku Kogetsu is located at 2312 Kawaguchi, Fujikawaguchiko-cho, Minamitsuru-gun, Yamanashi Prefecture. TEL 0555 (76) 8888.https://www.kogetu.com/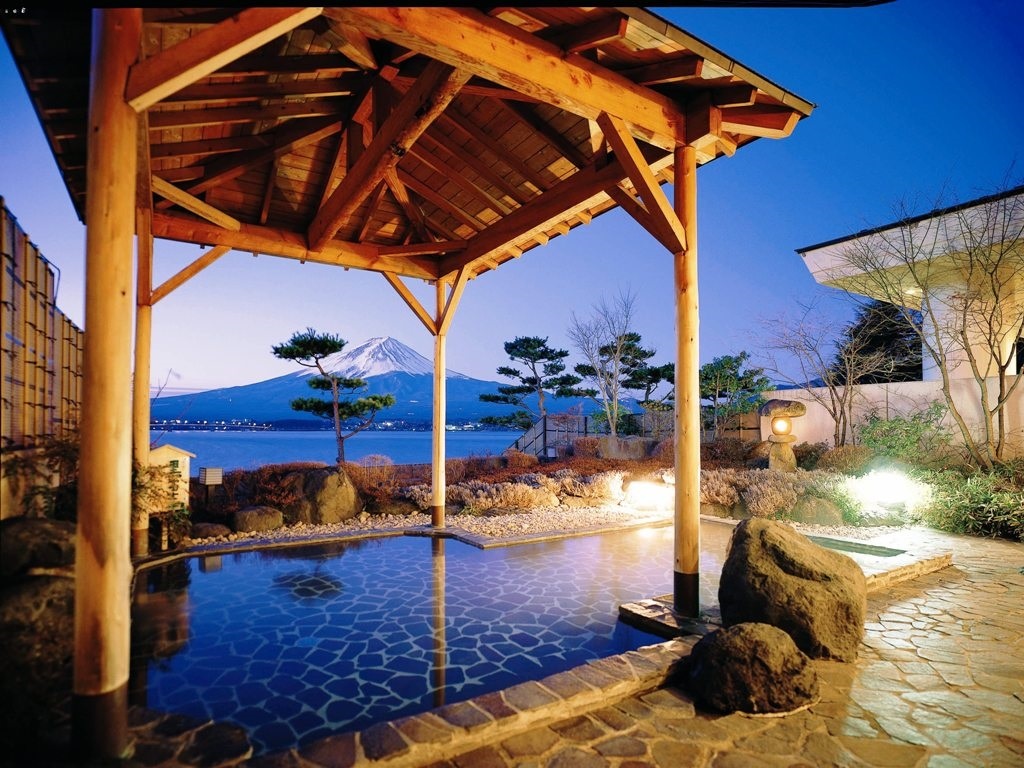 Gentlemen's open-air bath "Kurofuji"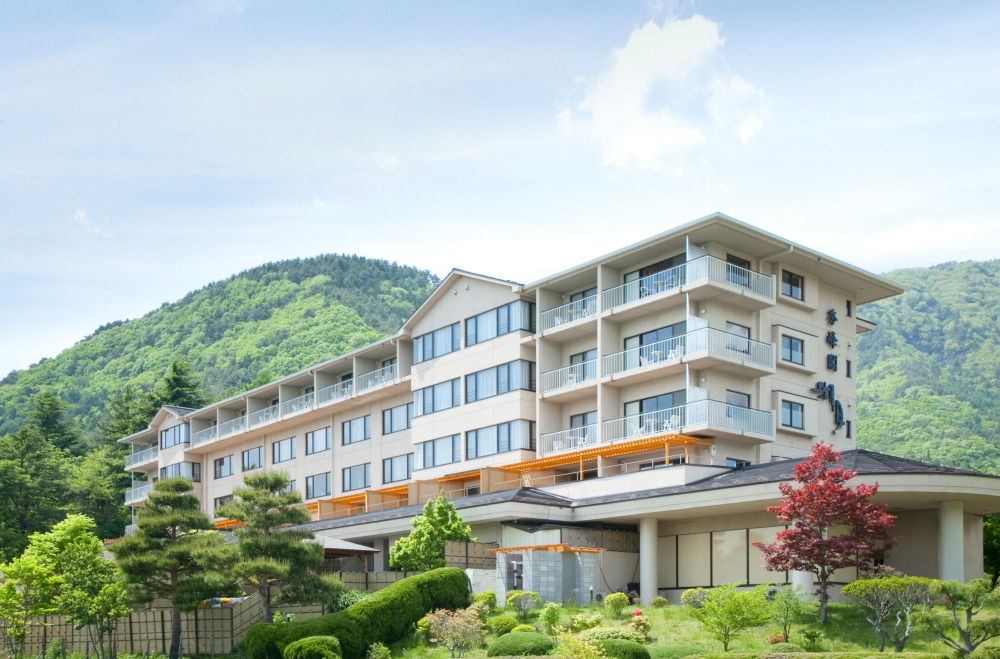 Exterior of Shuhokaku Kogetsu