"A Midsummer Night's Dream"
A heat wave hit Europe this summer. The heat and drought continue in Italy, especially in the northern part of the country. Rome also exceeds 35 degrees every day, and the famous fountain seems to be weakening.
Tourists from all over the world have returned to Rome since spring, and the city is regaining its liveliness. It seems that there are many tourists, especially from the United States. One of the reasons may be the early resumption of air routes connecting Italy and the United States. A few Asian tourists were seen from summer, but there are still few.
Rome has a constant stream of tourists all year round, but even if you leave it alone, there are many events in the middle of summer when foreign tourists come. An opera set in the ancient ruins of the Baths of Caracalla, a projection mapping in the Roman Forum, a film festival "Isola del Cinema" on the Tiber River Nakasu, etc.
At the film festival "Isola del Cinema", Japan Night was held for the first time in three years in cooperation with the Embassy of Japan in Italy, the Japan Cultural Institute in Rome, and JNTO. Taking up the theme of Shikoku, which was selected as one of the "Best in Travel 2022" by Lonely Planet, one of the most popular travel magazines in Italy, we distributed tourist pamphlets and produced an animated movie "Ryu" set in Shikoku. Tosofreckles Princess" (with Italian subtitles), performances by the Awa Odori dance team invited from Japan, and workshops on calligraphy and kimono dressing. We received comments such as, "I wanted to go to Japan because I was able to come into contact with the culture of Awa Odori and a region I hadn't known before."
At the projection mapping in the Roman Forum, everyone was given a set of earphones, and there was also a Japanese channel. Even if you are not a fan of ancient Rome, you will be able to enjoy the fantastic scenes in the images of the ancient landscape projected onto the ruins of ancient Rome.
It is strange for Japanese people that all the events start late at 21:00, because it is daylight time and it does not get dark at night. Events that end after 23:00 are rare in Japan, but tourists staying at hotels in the city don't have much of a problem. It may be an option of attracting customers to hold an event at a late time, assuming it is for tourists. It's hard for the people involved in implementing it, but the Italians are actually doing it.
Although Rome is one of the world's leading tourist cities, it does not rest on its laurels, but has various ingenuity to entertain foreign tourists.
On a different note, one of the requests I hear from Italian tourists visiting Japan is that they want espresso served for breakfast. An Italian breakfast is usually an espresso or cappuccino with a large sweet bread. I would like to ask all the people involved in hotels and inns to prepare espresso.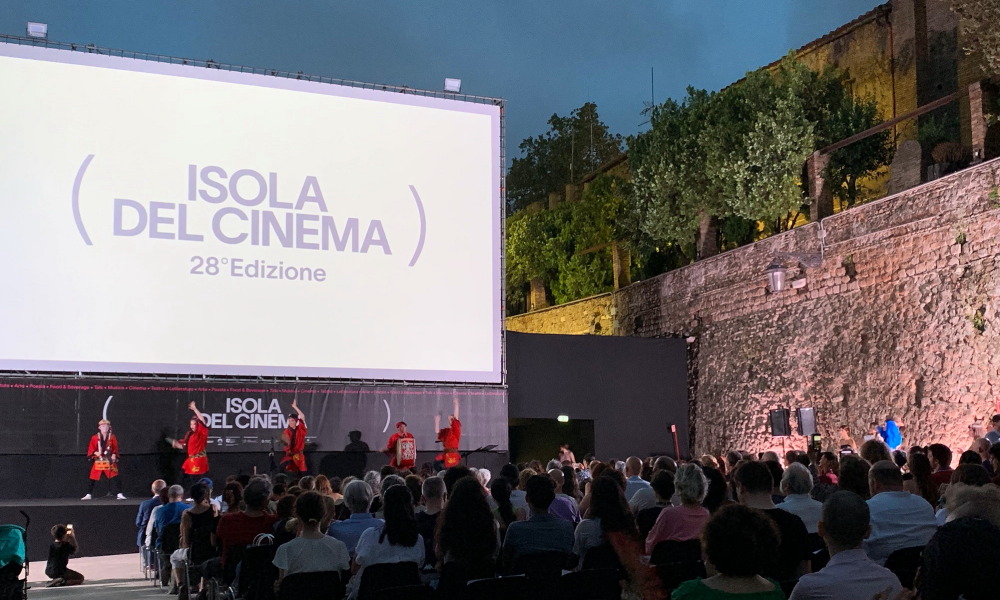 Film festival "Isola del Cinema" held on the Tiber River Nakasu