From October 15th to 30th, Canon will hold a video experience event "Yoru ZEN (Zen) – Japan in Harmony with Nature -" at Kenninji Temple, the head temple of the Rinzai sect in Higashiyama-ku, Kyoto. Utilizing advanced imaging technology, we produce a moving exhibition that breathes life into the nature and creatures expressed in cultural properties. Visualize the message contained in the work with video and contribute to the promotion of understanding of Japanese culture.
Yorzen is a Canon company that has been selected for the Japan Expo cultural resource content creation project led by the Agency for Cultural Affairs. A special event hosted by A combination of imaging technology and cultural assets.
At the same event, we will exhibit content that allows you to view the ceiling painting "Two Dragons" in Kenninji Temple Hall in AR (Augmented Reality). Using Canon's proprietary technology, we took split shots of a double dragon map of 11.4 in height, 15.7 in width, and 10.8 meters in ceiling height, and combined them into an image of 1.84 billion pixels. When you point your smartphone camera at the ceiling painting, an AR image of a dragon, which is said to be the guardian of Buddhism and the god who sends the rain of love, begins to move. You can also magnify and appreciate handwriting that cannot be seen with the naked eye on your smartphone.
We also exhibit content that allows you to experience MR (Mixed Reality) in the dry landscape "Daioen" in Kenninji Hojo garden. When viewing dry landscape using Canon's MR system head-mounted display "MREAL S1", 3D CG superimposed on the real space appears. You can experience a mysterious and realistic video experience with the motif of the world view of Zen.
Projection mapping is also available to match the national treasure "Fujin Raijin-zu Folding Screen" (high-definition replica). Two projectors will be used to project powerful images depicting the story of "the god of wind brings seeds, the god of thunder calls for rain, and brings a bountiful harvest."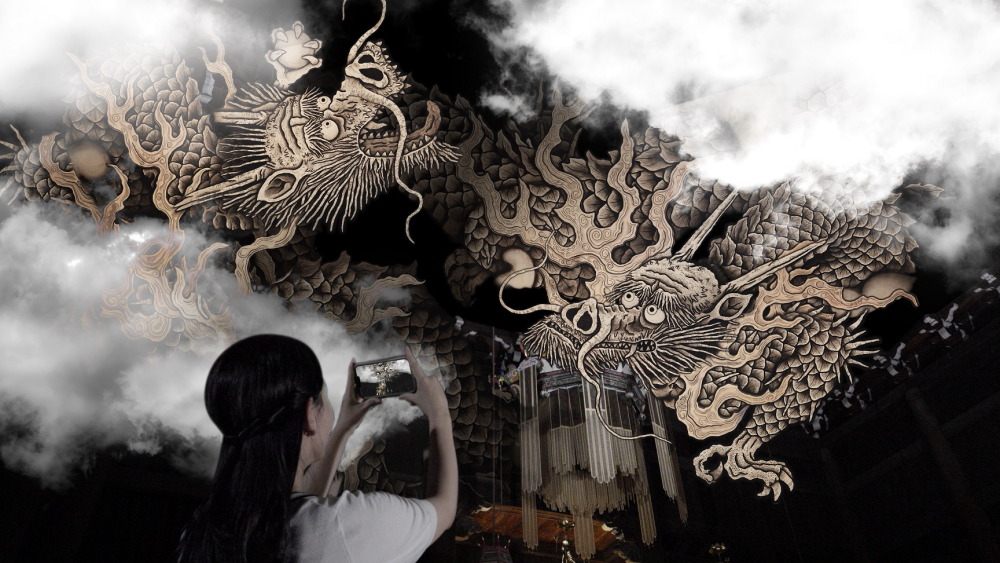 AR view of the ceiling painting "Two Dragons"